Years ago, on Apple's defunct iCards site, I found a photo that remains my favourite image for Christmas Eve: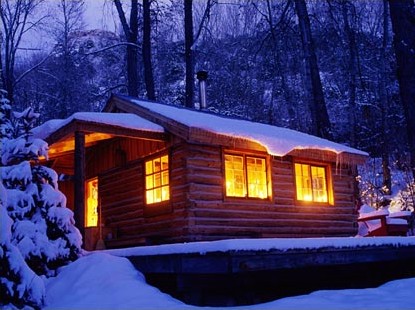 I don't know who took it, but I hope that tonight you are as warm and cozy as that picture feels. Christmas Eve is the night that my family has always held our big dinner and celebration, European style, and that will be the case again this evening.
There is also a sad component. Three years ago, on Christmas Eve, my friend Martin died suddenly in his sleep at age 39, so I think of it also as Martin's Eve.
Finally, chances are that tonight will be my last Christmas Eve: in December 2011, my family will gather again for Christmas. But by then, most likely, I'll be dead. I don't want tonight to become a maudlin event because of that, but it is the truth—and at least we all know that now. It's something I've wondered about for three Christmas eves now, and I feel a little relieved that it's become less of a mystery.
Christmas isn't a religious event for me, but a family one. Whatever it is for you, I hope yours is comfortable and happy, like the photo.